Because Saudi Arabia got caught lying about the brutal murder of Washington Post columnist Jamal Khashoggi last year, defense attorneys say a Virginia man convicted in 2005 of supporting al-Qaida terrorism should go free.
Ahmed Abu Ali's 2005 conviction on nine terrorism-related charges – including a plot to assassinate then-President George W. Bush – hinged on confessions he gave to Saudi interrogators who arrested him while he was attending a Saudi university. Saudi Arabia's secret police, the Mabahith, questioned him. That is the same agency responsible for killing and dismembering Khashoggi inside the Saudi consulate in Turkey a year ago.
Saudi officials initially denied any harm came to Khashoggi, then claimed no knowledge of his murder. Now, it casts the killing as a rogue operation within the Mabahith.
The contradictory explanations should give new credence to Abu Ali's defense that he was tortured by the Mabahith and told the Saudis what they wanted to hear, his new appeal says.
Three Saudi officials, testifying from Saudi Arabia under pseudonyms in hearings before his trial, denied those allegations.
But because other Saudi officials lied in 2018, the new appeal argues, that 2005 testimony should be discarded. In addition, the appeal accuses federal prosecutors of conspiring with the Saudi officers to introduce "materially false evidence" into the trial.
This argument seems to be a longshot. The appeal makes no attempt to say that the people who lied about Khashoggi's murder are the same people who testified that Abu Ali was not mistreated in Saudi custody. In addition, trial testimony from FBI officials, diplomats and medical experts cast doubt on Abu Ali's uncorroborated torture claim.
Saudi interrogators allegedly punched him in the stomach, pulled his hair and beard, whipped his back and forced him into uncomfortable positions shortly after his June 2003 arrest, Abu Ali claims. But FBI officials were able to observe an interrogation just days after the alleged beatings. They described Abu Ali as exhibiting no discomfort, walking with a normal gait and sitting back in his chair.
Had he been whipped as claimed, the wounds would have been too raw and painful to rest his back against the chair, medical experts testified.
For months, Abu Ali made no claim of abuse to FBI agents and U.S. State Department officials who visited him in Saudi prison. But investigators did hear a July 31, 2003 telephone call in which he told his parents that his "health is great." When his mother told him American courts would not accept information obtained "under coercion," he asked, "Are you sure 100 percent?"
In a separate call two months later, his mother asked, "Did your fingernails come back?"
"What are you talking about?", Abu Ali asked in response.
It wasn't until September, three months after the alleged abuse began, that he told an FBI agent "that he had given the Saudis false information because he was tortured," a 2005 ruling by U.S. District Court Judge Gerald Bruce Lee said. Given a chance by the FBI agent to detail his mistreatment, "he did not. Mr. Abu Ali did not complain about beatings, being punched or kicked, having his hair or beard pulled, being deprived of sleep, or being hung from the ceiling in his cell with his hands above his head."
That same month, however, Abu Ali asked a U.S. consular official, "Why are you asking me all these questions [about the conditions of my confinement]? I don't have a problem with Saudi Arabia; I have a problem with the U.S. government."
After graduating as valedictorian of his class at northern Virginia's Islamic Saudi Academy in 1999, Abu Ali spent a year at an American university before deciding to study at the Islamic University in Medina. There, U.S. investigators say, he met an al-Qaida operative who later introduced him to a terror-cell leader.
In his confession, Abu Ali said he "immediately accepted" their invitation "because of my hatred of the [United States] for what I felt was its support of Israel against the Palestinian people, and because I was originally from Jerusalem."
Abu Ali discussed two ways he might serve al-Qaida's cause, including marrying a Christian woman to avoid attention in order to set up a sleeper cell in the United States. But he and his handlers also talked about killing President Bush, either through a martyrdom attack when he was greeting the public or through the use of snipers. It was his idea.
"I was determined to kill the president, and I believe I could have succeeded," he told his Saudi interrogators, as FBI agents watched on the other side of a two-way mirror, "because look at what they did on September 11th, flying planes into buildings. I wanted to kill senators, congressmen and American soldiers."
He received weapons and explosives training and was asked by the cell to translate an American pilot's transmission taken during a bombing run in Afghanistan. Saudi authorities arrested cell members after the May 2003 Riyadh bombings killed 34 people, including nine Americans. They found Abu Ali's translation of the pilot's transmission in searches of al-Qaida safe-houses. In Abu Ali's dorm room, they found jihad literature and a notebook with the name of the man who introduced Abu Ali to the al-Qaida cell member.
Lee's 113-page ruling rejected defense attempts to keep the confessions from being admitted during Abu Ali's trial.
"Abu Ali's claim about having been whipped to the point of having blood on his back seems implausible in light of certain behaviors that he exhibited in the time frame of June 11 through 15, 2003 – immediately after the alleged whipping – that do not coincide with how a recently beaten person would behave." Lee wrote.
Instead, witnesses said Abu Ali was more concerned about the United States knowing about his arrest. It was the first thing he asked when he entered the room for an interrogation that FBI was allowed to observe days after the alleged torture.
"It stretches credibility to think that a United States citizen who had just been beaten and tortured days before by foreign law enforcement officials would not want the United States to know that he was in custody abroad and was being tortured," Lee wrote.
He also made a point of saying that, while he would admit the confessions at trial, "[t]he Court is not pronouncing these [Saudi] witnesses to be truthful. Rather, the Court is making a judgment that, in weighing the issue of the voluntariness of Mr. Abu Ali's statements, the testimony of these witnesses must be considered by the jury."
Jurors convicted Abu Ali after deliberating for 2½ days.
The Khashoggi killing does nothing to challenge those witness accounts. In addition, medical experts called by the prosecution testified that Abu Ali did not show signs of post-traumatic stress and light scarring on his back was inconsistent with wounds that result from whippings.
But those holes in Abu Ali's claims haven't stopped a former Council on American-Islamic Relations (CAIR) official from hyping the appeal. Cyrus McGoldrick, who was the civil rights director for CAIR's New York chapter, posted a video on several social media platforms promoting Abu Ali's case.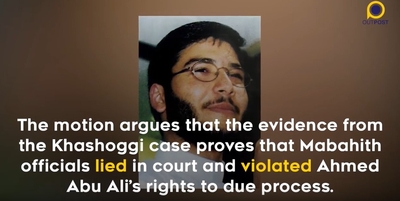 McGoldrick, who, like a number of CAIR officials, used to go on Iran's PressTV to criticize the United States, previously has advocated on behalf of other convicted terrorists, including "Lady al-Qaida" operative Aafia Siddiqui and convicted cop-killer Jamil Al-Amin.
Prosecutors have yet to respond to Abu-Ali's latest appeal, which was filed on Oct. 2 with the Fourth Circuit Court of Appeals.
IPT Research Analyst Teri Blumenfeld contributed to this report.