Correction: U.S. Sen. Bernie Sanders is from Vermont. An earlier version of this story incorrectly identified his home state. We regret the error.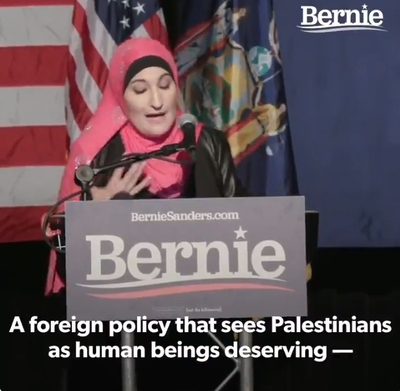 Bernie Sanders has made an odd calculation in his quest for the 2020 Democratic presidential nomination. He all-but-ceded support from Jewish Democrats during the weekend by announcing anti-Semitic activist Linda Sarsour again will serve as a campaign surrogate.
When Sanders embraced Sarsour's support during the 2016 campaign, we showed how her rabidly anti-Israel views crossed into anti-Semitism. She views Zionism – the belief in a Jewish homeland – as "creepy." She spoke at Louis Farrakhan's 2015 Million Man March, where she called Zionists white supremacists.
Her actions since then, in helping lead the national Women's March and in spreading a blood libel that blames Jews for police shootings of unarmed black people, have only made her hatred for the Jewish state and its supporters clearer.
A Gallup report issued last month found that 95 percent of American Jews view Israel favorably and more than three-quarters "they were at least somewhat emotionally attached to Israel." In 2016, Jews voted for Hillary Clinton over President Trump by 71 percent to 23 percent, exit polling showed. All of this makes Sanders' partnership with Sarsour difficult to fathom.
Is he confident that enough Jewish Democrats will overlook Sarsour and still support him? Or is the bet that the rest of the Democratic base – the primary voters – either agree with her or don't prioritize the issue, and that that is enough to compensate for the loss of Jewish votes? If he were to become the Democratic nominee, what happens to those voters in a general election? Do liberal Jews choose not to vote for president? Or do they switch to President Trump, whom they overwhelmingly opposed in 2016?
Evidence of Sarsour's anti-Semitism is even deeper than it was in 2016:
Anti-Semitic incidents within the Women's March leadership forced the movement's founder out. Sarsour was a national co-chair. The problem was so severe it prompted several big-name sponsors, including the Democratic National Committee (DNC), the Southern Poverty Law Center (SPLC), Emily's List and the National Organization for Women (NOW), to withdraw support.
She reportedly has used Farrakhan's Nation of Islam for security, both personally and for the March.
She's a strong advocate of the BDS movement, which seeks to isolate Israel economically, politically and socially. BDS founder Marwan Barghouti has admitted that "We oppose a Jewish state in any part of Palestine. No Palestinian, rational Palestinian, not a sell-out Palestinian, will ever accept a Jewish state in Palestine."
One month after the 2016 election, Sarsour told an American Muslims for Palestine (AMP) gathering that her movement had no room for Jews who don't share her anti-Israel views, especially on BDS..
These ideas may have some momentum with younger, more liberal Democrats, but remain far on the fringe of the party's establishment. The U.S. House voted in July to condemn BDS by a 398-17 vote. It criticized the movement for "encouraging the Palestinians to reject negotiations in favor of international pressure" and because BDS "does not recognize, and many of its supporters explicitly deny, the right of the Jewish people to national self-determination."
By officially announcing Sarsour's role as a campaign surrogate, Sanders – an independent senator from Vermont – seems to see political gain in aligning with the 17 "no" voters.
Sarsour and her allies say that they are merely criticizing Israeli policies, and that cannot be considered anti-Semitic. But rejecting Israel's existence is a form of anti-Jewish bigotry according to the State Department's definition of anti-Semitism.
"I am an unapologetic pro-BDS, one-state solution supporting resistance supporter here in the U.S.," Sarsour told an audience at the Islamic Society of North America's (ISNA) annual convention a year ago, the Investigative Project on Terrorism exclusively reported. It was there that she blamed an Anti-Defamation League program that takes American police leaders to Israel to learn about anti-terror and riot control methods. The program does not include any hands-on training. But that didn't stop Sarsour from falsely alleging that, as a result of the program, police "come back here and do what? Stop and frisk, killing unarmed black people across the country."
Sarsour recently led a failed drive to get CNN anchor Jake Tapper fired after Tapper had the temerity to compare Palestinian rhetoric that incites violence to American political rhetoric and the role it may play in a spate of white nationalist violence in America. "Either tone matters or it doesn't," he said.
Sarsour, through her political group MPower Change, launched a petition demanding Tapper's firing. Tapper's reference to Palestinian incitement and terror glorification, which is well documented, amounted to "the height of unethical journalism," she said.
It wasn't. But the over-reaction says a lot about Sarsour's politics. A 2016 Sanders campaign ad concluded by showing Sarsour saying the candidate "sees all of me."
If he really does, and still embraces Sarsour's support, that might be the most disturbing aspect of all.